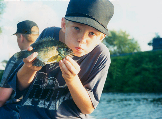 We are an all volunteer benevolent organization that has dedicated itself to improving the opportunity a youngster might have on their way to adulthood. Give them a few chances at some of the experiences we as children found to be character building, pleasurable activities that they may otherwise not have a shot at. We help many children from diverse backgrounds. Those that have very little to those that may have every opportunity but never offered the direction. Our group mostly helps with monetary donations that we keep a very close eye on but we have also walked the parade route on the 4th of July and handed out a truck load of fishing poles to children lining the streets.
We are very proud of our efforts and with help from nice people like you we can expand our message and hopefully at some point impact many more children.
Thank you for your support!
Walleye's for Kid's
"Helping Kids Discover Sports"